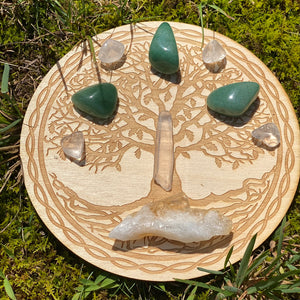 Crystals and 6" Tree of Life Grid
* crystals are included but are loose. 

Citrine and Aventurine
to maximize life force energy
The yellow hues of Citrine represent the sun and the green hues of Aventurine represent the earth. Together, these stones maximize your life force energy, that sense energy you experience when you feel most alive. Using these stones together helps infuse your mind, body and spirit with vitality and the energy of life. 
How to Use This Crystal Couple: Lie down on your back and place your Citrine  over your lower belly below your naval and Aventurine over your heart. Let the stones infuse your energy field with a rush of life force energy.