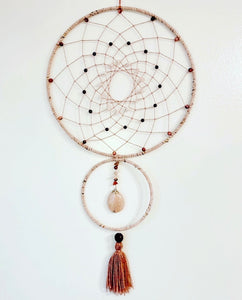 Rhodonite
Rhodonite is a stone of compassion, an emotional balancer that clears away emotional wounds and scars from the past, and that nurtures love.  It stimulates, clears and activates the heart.  Rhodonite grounds energy, balances yin-yang, and aids in achieving one's highest potential.  It heals emotional shock and panic.  Rhodonite aids in cases of emotional self-destruction, codependency and abuse.
Calmness
Self-confidence
Refinement
Gratefulness
Elegance
Delicacy
Courtesy
Tact
Alternatives
Inner path
Chakras - Heart Chakra
Zodiac - Taurus
Planet – Venus
Element – Earth
Vibration - Number 9
Typical colours - red, pink, brownish-red, grey
Rose Quartz
Rose Quartz is the stone of universal love.  It restores trust and harmony in relationships, encouraging unconditional love.  Rose Quartz purifies and opens the heart at all levels to promote love, self-love, friendship, deep inner healing and feelings of peace.  Calming and reassuring, it helps to comfort in times of grief

Unconditional love
Self-love
Mother love
Caring
Kindness
Friendship
Romantic love
Platonic love
Rose Quartz is a rose pink variety of Quartz.
Chakras - Heart Chakra
Zodiac - Taurus, Libra
Planet - Venus
Element - Earth, Water
Vibration - Number 7
Typical colours - rose pink
Garnet
Garnet cleanses and re-energises the chakras.  It revitalises, purifies and balances energy, bringing serenity or passion as appropriate.  Inspires love and devotion
Passion
Sensuality
Sexuality
Romantic love
Intimacy
Positive thoughts
 Energy
Past life recall
Inspiration
Success
 Social popularity
Self-confidence
Chakras -  Base Chakra, Heart Chakra
Birthstone -  January
Zodiac -  Aries, Leo, Virgo
Planet – Mars
Element – Fire
Vibration - Number 2