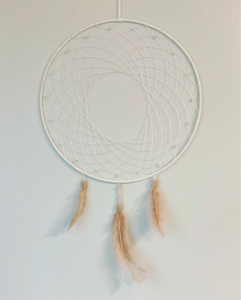 14" x 22"
Rose Quartz
Rose Quartz is the stone of universal love.  It restores trust and harmony in relationships, encouraging unconditional love.  Rose Quartz purifies and opens the heart at all levels to promote love, self-love, friendship, deep inner healing and feelings of peace.  Calming and reassuring, it helps to comfort in times of grief

Unconditional love
Self-love
Mother love
Caring
Kindness
Friendship
Romantic love
Platonic love
Rose Quartz is a rose pink variety of Quartz.
Chakras - Heart Chakra
Zodiac - Taurus, Libra
Planet - Venus
Element - Earth, Water
Vibration - Number 7
Typical colours - rose pink
Opalite is subtle yet highly energetic.  It is ideal for meditation.  Opalite improves communication on all levels, especially the spiritual.  It removes energy blockages of the chakras and meridians. 
Psychic abilities
Spirituality
Transition
Chakras - Third Eye Chakra
Typical colours - clear or milky, and iridescent.