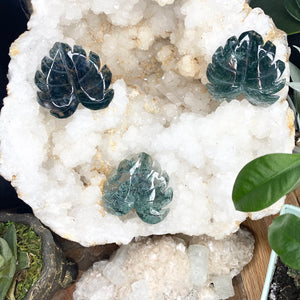 2.5" x 3"
Throughout history and all cultures, Moss Agate has been known as the crystal of gardeners and agriculture. It was considered a miraculous healing stone for tribal priests of the past, giving them power to interact with our human organic system, and was used as a talisman to make warriors strong and victorious.
Monstera Plants and Their Meaning in Feng Shui
In feng shui , monstera plants represent growth, upward energy, and abundance.
MOSS AGATE
Attracts abundance in all forms. In the workplace, it draws new business and gradual expansion, increasing prosperity over time.
Its steady energies aid those who feel unstable or ungrounded.
Moss Agate is a cleansing crystal, useful for clearing personal energy systems as well as environmental.