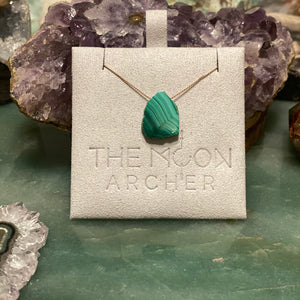 16" Silk Cord Necklace 
 Malachite is a stone for transformation. It brings healing to any part of your life that needs it – most notably your relationships. The mirror-like quality of the stone reflects back whatever is shown to it. Be it love or hate, happiness or anger.
This also means that everything you need to know about yourself can be found within Malachite. It holds the energy of the stars and has a unique ability to connect us with our other selves. The ones we may have been in past lives.