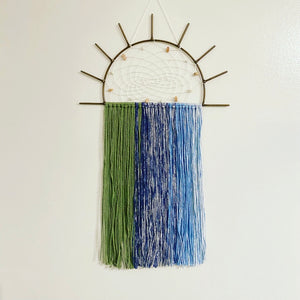 Sunstone:
Sunstone is linked to luck and good fortune.  It clears and energizes all the chakras.  Sunstone instills good nature, heightens intuition and allows the real self to shine through happily.  It dissipates fearfulness, alleviates stress and increases vitality.  Encourages independence and originality.

Freedom
Originality
Sensuality
Romance
Sexuality
Independence
Luck
Sunstone is a variety of Feldspar.
Chakras - Sacral Chakra, Solar Plexus Chakra
Zodiac - Leo, Libra
Element - Fire, Air
Vibration - Number 1
Typical colors - grey, green, yellow, brown, orange, pink, peach, red
Moonstone:
A stone for "new beginnings", Moonstone is a stone of inner growth and strength.  It soothes emotional instability and stress, and stabilizes the emotions, providing calmness. 
Happiness
Good fortune
Nurturing
Mothering
Unselfishness
Humanitarian
Love
Hope
Spiritual insight
Easy childbirth
Safe travel
New beginnings
Abundance
Ancient wisdom
Chakras - Third Eye Chakra, Solar Plexus Chakra
Birthstone - June
Zodiac - Cancer, Libra, Scorpio
Planet - Moon
Element - Water
Vibration - Number 4
Typical colors - cream, yellow, blue, grey, peach/pink