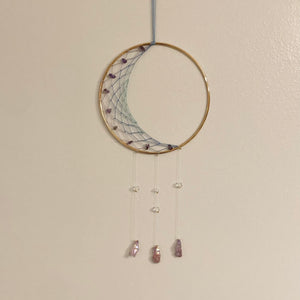 6" x 12"
Amethyst
Amethyst is a powerful and protective stone.  It guards against psychic attack, transmuting the energy into love and protecting the wearer from all types of harm, including geopathic or electromagnetic stress and ill wishes from others. 
Increases nobility
Spiritual awareness
Psychic abilities
Inner peace and healing
Healing of body, mind & soul
Positive transformation
Meditation
Balance
Relieves stress
Communication
Amethyst is a variety of Quartz and is a 6th Anniversary gemstone.
Chakras - Third Eye Chakra, Crown Chakra 
Birthstone - February 
Zodiac - Virgo, Sagittarius, Capricorn, Aquarius, Pisces 
Planet – Jupiter 
Element – Air, Water
Vibration - Number 3
Typical colours - light slightly-pinkish violet to a deep grape purple