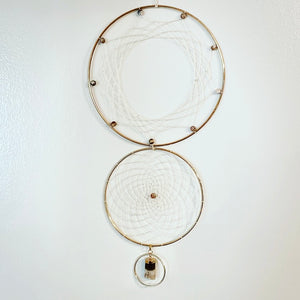 16.5" x 8" 
Agate:
Agate is an excellent stone for rebalancing and harmonizing body, mind and spirit.  It cleanses and stabilizes the aura, eliminating and transforming negativity. 
Love
Abundance
Wealth
Good luck
Longevity
Acceptance
Courage and strength
Protection, security and safety
Balance
Harmony
Generosity Appreciation of nature
Zodiac - Gemini, Virgo
Planet - Moon
Element - Earth
Vibration - Number 7
Typical colors - Clear or milky white, white to grey, light blue, orange to red, black
Smokey Quartz:
In addition to the generic healing properties of Quartz, Smokey Quartz is an excellent grounding stone.  It gently neutralizes negative vibrations and is detoxifying on all levels, prompting elimination of the digestive system and protecting against radiation and electromagnetic smog. 
Serenity
Calmness
Positive thoughts
Calms fear
Lifts depression
Stability
Practicality
Intuition
Pride
Chakras - Base Chakra, Solar Plexus Chakra
Zodiac - Scorpio, Sagittarius, Capricorn
Element - Earth/Air
Vibration - Numbers 2 & 8
Typical colors - Brown to black